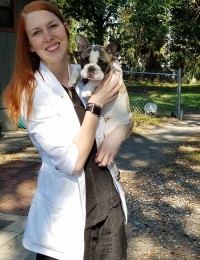 Dr. Tristan Hoeffer was born and raised in Jacksonville, Florida. She is a graduate of First Coast High School and the University of North Florida (BS Biology). In 2015, Dr. Hoeffer completed a year of clinical rotations at Oklahoma State University after graduating from Ross University School of Veterinary Medicine on the beautiful island of St. Kitts.
Dr. Hoeffer started as a kennel technician with Beltway Animal Hospital summer 2004. She worked her way up over the years becoming a veterinary technician. November 15, 2016 Dr. Hoeffer started as a veterinarian, where she enjoys the surgical and internal medicine aspects the most.
Dr. Hoeffer and her husband (whom is also a veterinarian) Dr. Etienne Rossy have 3 French Bulldogs (Killian, Emma, and Murphy). In her spare time she enjoys being outdoors and spending time with her family.