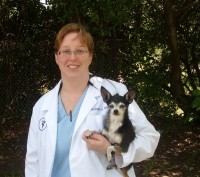 Doctor
Dr. Rachel Brown was born and raised in Jacksonville, Florida.  She is a graduate of Forrest High School, the University of North Florida (AA Biology), the University of Florida (BS Animal Biology) and St. Petersburg College (AS Veterinary technology).  In 2010, Dr. Brown completed a year of clinical rotations at the University of Florida and graduated from St. Matthews University School of Veterinary Medicine.  Dr. Brown also completed a Masters of Business Administration, Hospital Administration from Davenport University while she was in veterinary school.
Dr. Brown started as a kennel technician with Beltway Animal Hospital in March of 1994.  She worked her way through the ranks over  the years becoming a certified veterinary technician and technician supervisor.  In 2010, Dr. Brown started as a veterinarian, where she enjoys the internal medicine and dermatology aspect of medicine the most.
Dr. Brown has a rescue Chihuahua named Blue and an elderly rescue cat.  In her spare time she enjoys dancing, strength training, and spending time with her family.