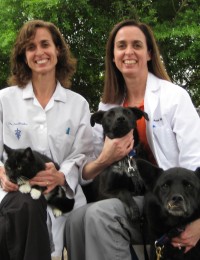 Doctor
Doctors Jane (left) and June (right) Bemben are twin sisters and owners of Beltway Animal Hospital. They were born in Miami, Florida where they lived with their 3 older brothers and sister until they were 9 years old.  The family then moved to North Fort Meyers.  As young girls they often cared for stray animals as well as their pet dog "Snoopy" (a German Shepherd).  At the age of 11, a horse farm moved next door to them and in exchange for riding lessons, they would clean stalls and feed the horses.  During veterinary house calls to the farm, Jane and June often got to help, feeding  their passion for helping animals and molding the beginnings of their future career.
They continued to take care of the horse farm until 1987, at which time Doctors Jane and June graduated high school and were accepted into the University of Florida.  Upon completion of their undergraduate studies, both sisters were accepted into the University of Florida College of Veterinary Medicine.  After graduation, they moved to Jacksonville, Florida and started their careers at Beltway Animal Hospital.  In May of 2005, they purchased the practice and look forward to coming to work everyday and love being able to work together.
Dr. Jane lives in Orange Park with her husband, sons Kyle and Lucas, 4 cats and an Italian Greyhound.  Dr June lives in Arlington with her husband and their 2 mixed-breed dogs.