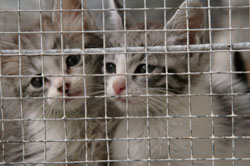 Ease your concerns about leaving your pet behind while you're away.  Let our qualified staff provide daily care in a safe, comfortable environment.  We provide bedding, food and water bowls, Purina gastrointestinal diet food (but feel free to bring your own food if you prefer or if your pet is on a special diet).  We will administer any needed medication while your pet is boarding, please bring the medications and instructions for our staff to follow.
Our kennel staff is trained to monitor your pets while boarding including their eating habits, weight loss, loss of appetite or parasites including fleas or ticks (treated at owners expense).  We have a veterinarian and technician on –call if any situation arises during their stay that requires medical attention.
To keep all our boarding dogs and cats as healthy as possible, we require all pets to be current on vaccinations including rabies and distemper, along with other species specific vaccinations.  If your pet has been vaccinated at another facility, we will require a copy of the vaccination records prior to boarding.
Reservations are required for boarding, please call ahead to make your reservations.
Our boarding areas are 100% indoor, fully air-conditioned and heated, feline boarding separate from dog boarding area, owner visits and tours of facility available.  Baths and/or grooming are available after boarding (at owners request, additional charges apply, please ask for availability).